Notes from a Rachel Concert-Goer
"It's Signing Time with Alex and Leeeaaahhh!", is often the song belted out at my house by my two-year-old, Jadelyn. And to be honest, she isn't the only one in our family who loves "Signing Time" and the entire Coleman family.  I have always had an interest in American Sign Language (ASL). I took some introductory courses in college for fun and used a little basic sign in my classroom as a first grade teacher. Naturally, as I became a parent, I was interested in teaching sign to my infant too. I read online about basic "baby" signs and read some books about using sign language with infants too. I gleaned some basic information and jumped in teaching my 8 month old the signs for "milk", "please", and "more"…which to be honest, pretty much covered the necessary conversation needs for her at this age, right?
After the initial signs, I was unsure of what to teach next. I found a few board books at the library with "baby" sign, but I was frustrated that they weren't using real ASL, so the sign for "frog" in one book was different than sign for "frog" in the other book. Plus, it was difficult to accurately figure out the signs from a stagnant picture and illustration. On my next trip to the library, I perused the DVD section and found a few sign language videos. I grabbed an assortment of the shelf and took them home.
Well, I need not tell you what happened next! We were instantly drawn to "Signing Time" and the songs and personality of Rachel Coleman. Our first video was "Leah's Farm". After watching it with my daughter, I called my husband in to watch a bit too. He said, "There is something about her (Rachel). She is fun to watch…and she just draws you in…" It is true. She is FUN to watch. The songs are memorable and catchy, but not super annoying. The signs are easy to learn and the format is great! My daughter loves watching all the kids signing – especially Alex and Leah!
Intrigued by Rachel Coleman, I visited www.signingtime.com and found her blog. If her engaging personality isn't enough, you should take a moment to read her story – seriously, she is an interesting person. When I share my love of "Signing Time" with others, I usually share a bit about Rachel's personal story too. As a mother, I can completely identify with her perspective and initiative.
After "Leah's Farm", we watched several others through our local library. Jadelyn's vocabulary exploded after we began watching "Signing Time". Jadelyn was an early talker, so I am not sure if ASL helped her speak earlier? However, we all noticed a marked surge in her oral vocabulary right away. By 14 months, she knew all of her letters and I KNOW it was from "ABC Signs" – one of her favorite DVDs to watch. In fact, it is one of her favorite songs to sing solo these days. I never sat down with Jadelyn to "practice our alphabet", she just listened and learned! As a first grade teacher, I especially appreciated that "L", "M", "N", "O" had their own special song – no more squishing all those letters together into one "LMNO"– very smart! I can't tell you how many children I had to teach THAT to over the years!
At her 18 month well-check, the doctor was amazed at Jadelyn's vocabulary. She even called a nurse in to listen – talk about a proud mama moment!
There are many things "Signing Time" has brought to our family, but the best thing is the basic entertainment. When going to sleep at night, I often hear Jadelyn singing a "Signing Time" song and watch her singing and SIGNING her little heart out before going to bed. On long car trips, she sings happily from the backseat. When waiting at a busy place, like the doctor or grocery store line, we sign words to each other to keep little hands busy and happy.
Last year we learned that THE Rachel Coleman was coming to Seattle! We were ecstatic! I wasn't sure who was more excited – Jadelyn or her family! Even my sister and parents came along to meet the infamous Rachel – plus, we all knew the songs by heart!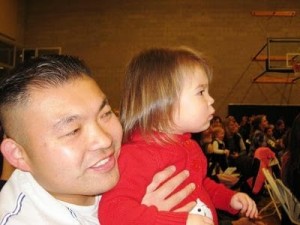 Even though Jadelyn was just one-and-a-half-years old, she was mesmerized! She stood stock-still, watching Rachel, and emphatically signing "more" after each song finished. We can't wait to see Rachel again this fall in Redmond on September 3rd! Jadelyn already knows we are going and has decided to wear her "Hopkins" shirt. Her eyes get very serious when we talk about the upcoming concert and I can't wait to see her reaction now that she is one year older.
Isn't that the best? Watching your child experiencing something that brings them so much joy!? Another plus, I have absolved myself from all guilt about watching "TV" because I know she is learning something valuable. There have been a few mornings where I sent a silent "thank you" to "Signing Time" into the cosmos because I was able to take a quick shower while she watched or get a dinner into the hot oven without little ones underfoot. We sing and sign along together, bonding and playing while I am working in the kitchen.
If you have seen "Signing Time", you know what I talking about. If you haven't seen it yet…I highly recommend "Leah's Farm" or "The Zoo Train" to start out. There are also "Baby Signing Time" (BST) videos that we loved too! They are shorter and have younger children signing. I often find Jadie pretending to drive her red car like Rachel in BST "Here I Go" – hilarious.
About Lisa:
Lisa lives in Woodinville with her husband, daughter, and golden retriever, Bella. Before becoming a mommy, Lisa taught first grade for 9 years and now works part-time as a literacy specialist. She enjoys gardening, running, and enjoying life with her family. She is very involved in her local MOMS Club and the American Heart Association. She loves to sing and is glad her two-year old thinks her singing is "beautiful" because not everyone would agree with that sentiment.
Rachel will again be in the Seattle area on September 3rd of 2011.  Tickets are still available.